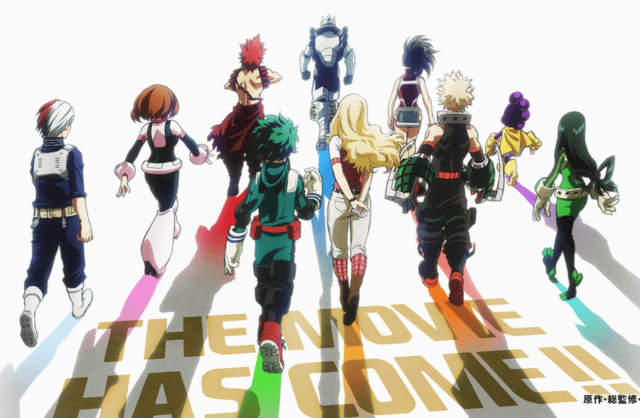 A soli tre giorni dal tanto atteso debutto in Giappone della terza stagione di My Hero Academia, il profilo twitter ufficiale del manga ha divulgato anche il primo trailer ufficiale del lungometraggio My Hero Academia – The Movie: The Two Heroes,
https://twitter.com/heroaca_movie/status/981365745971007489
La pellicola si colloca nel maga esattamente nell'arco narrativo "un'altra estate", durante il quale i nostri giovani aspiranti eroi si trovano alle prese con il campo estivo.
Questa la sinossi ufficiale divulgata:
Con l'epilogo degli Esami Finali, i membri della sezione Hero 1-A del Liceo Yuhei si dirigono in gita al campo scuola d'addestramento per la pausa estiva.
Tuttavia, prima di partire per il campo scuola, All Might e Deku accettano un invito da qualcuno che consiste di andare all'estero in una gigantesca e artificiale città mobile galleggiante chiamata 'I Island'. I ricercatori di tutto il mondo, sia dell'Est che dell'Ovest, si riuniscono in quella città, conosciuta anche come la Hollywood della Scienza, dove si sta tenendo un evento speciale denominato 'I Expo'. In questa convention gli scienziati effettuano studi sui Quirk, Supplementi, Support e Item per Hero.
In questo luogo Deku incontra una ragazza senza Quirk di nome Melissa. Quest'ultima è proprio come Deku, ovvero una senza Quirk. Izuku, dal momento che condividono questa condizione, riesce immediatamente a connettere con Melissa raccontandole di quando anche lui non possedesse una caratteristica fisica sovrannaturale. In quel momento, all'improvviso, sebbene un muro d'acciaio circondi e tenga al sicuro l'isola, il sistema viene danneggiato da un villain che è riuscito a violarne la sicurezza! Le persone che vivono vengono tutte prese d'ostaggio!
Il film uscirà nelle sale cinematografiche dal 3 agosto 2018.