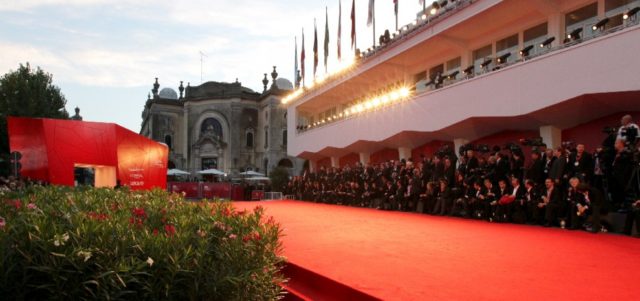 Annunciato quest'oggi il programma della Mostra del Cinema di Venezia, che si terrà al Lido dal 30 agosto al 9 settembre.
Programma ricchissimo in cui sono stati confermati alcuni rumor della vigilia: c'è The Shape of Water di Guillermo del Toro, l'atteso esordio americano di Virzì con The Leisure Seeker, Clooney con il suo nuovo film da regista, L'apertura di Payne con Downsizing e la grande sorpresa di Aronofski con Mother!. 
Due sono invece i film italiani nella selezione ufficiale: Ammore e Malavita dei Manetti Bros. e Una famiglia di Sebastiano Riso con la Ramazzotti.
Il programma:
Concorso
HUMAN FLOW


by

 

AI WEIWEI

​


Germany

, 

USA 

/ 140'

MOTHER!


by

 

DARREN ARONOFSKY 

starring 

Jennifer Lawrence, Javier 

Bardem

, Michelle Pfeiffer

, 

Domhnall

Gleeson, Ed Harris


USA 

/ 

120'

SUBURBICON


by

 

GEORGE CLOONEY

​ 

starring 

Matt Damon, Julianne Moore, Noah 

Jupe

, Oscar Isaac


USA 

/ 104'

THE SHAPE OF WATER


by

 

GUILLERMO DEL TORO 

starring 

Sally Hawkins, Michael Shannon, Richard Jenkins, Doug Jones, Michael 

Stuhlbarg

, Octavia Spencer


USA 

/ 119'

L'INSULTE


by

 

ZIAD

 DOUEIRI 

starring 

Adel Karam, Kamel El Basha, Camille Salameh, Rita Hayek


France

, 

Lebanon

 / 110'

LA VILLA


by

 

ROBERT GUÉDIGUIAN

​​ 

starring 

Ariane

 

Ascaride

, Jean-Pierre 

Darroussin

, 

Gérard

 

Meylan

, Jacques 

Boudet

, 

Anaïs

 

Demoustier

, Robinson 

Stévenin




France

 / 107'

LEAN ON PETE

​


by

 

ANDREW HAIGH 

starring 

Charlie Plummer, Steve 

Buscemi

, 

Chloë

 

Sevigny




Great Britain

 / 

121

'


MEKTOUB, MY LOVE: CANTO 

UNO


by

 

ABDELLATIF KECHICHE

​ 

starring 

Shain

 

Boumedine

, 

Ophélie

 

Baufle

, 

Salim

 

Kechiouche

, 

Lou

Luttiau

, Alexia 

Chardard

, 

Hafsia

Herzi




France

, 

Italy

 / 

180'

SANDOME NO SATSUJIN (THE THIRD MURDER)


by

 

KOREEDA HIROKAZU 

starring 

Fukuyama 

Masaharu

, 

Yakusho

 

Kō

ji

, Hirose 

Suzu




Japan

 / 124

'

JUSQU'À LA GARDE


by

 

XAVIER LEGRAND

​​ 

starring 

Denis 

Ménochet

, 

Léa

 

Drucker

, Thomas 

Gioria

, 

Math

ilde

 

Auneveux

, 

Saadia

 Bentaïeb


France

 / 90'

AMMORE E MALAVITA


by

 

MANETTI 

Bros

.

​ 

starring

 

Giampaolo Morelli, Serena Rossi, Claudia Gerini, Carlo 

Buccirosso




Italy

 / 133'

FOXTROT


by

 

SAMUEL MAOZ

​​ 

starring 

Lior

 Ashkenazi, Sarah Adler, Yonatan 

Shiray


Israel

, 

Germany

, 

France

, 

Switzerland

 / 113'

THREE BILLBOARDS OUTSIDE EBBING, MISSOURI


by

 

MARTIN 

McDONAGH

 ​

starring 

Frances 

McDormand

, Woody Harrelson, Sam Rockwell, 

Abbie

Cornish, John 

Hawkes

, Peter 

Dinklage




Great Britain 

/ 110'

HANNAH


by

 

ANDREA PALLAORO

​​ 

starring 

Charlotte 

Rampling

, André 

Wilms




Italy

, 

Belgium

, 

France

 / 95'

DOWNSIZING


by

 

ALEXANDER PAYNE 

starring 

Matt Damon, 

Christoph

 Waltz,

 Hong 

Chau

, Kristen 

Wiig




USA 

/ 140'


JIA NIAN HUA (ANGELS WEAR WHITE)

​


by

 

VIVIAN QU

​ 

starring 

Wen

 

Qi

, Zhou 

Meijun

, Shi 

Ke

, 

Geng

 L

e, Liu 

Weiwei

, 

Peng

 Jing


China

, 

France

 / 107'

UNA FAMIGLIA


by

 

SEBASTIANO RISO

​ 

starring 

Micaela

 

Ramazzotti

, Patrick 

Bruel




Italy

 / 105'

FIRST REFORMED


by

 

PAUL SCHRADER

​ 

starring 

Ethan Hawke, Amanda 

Seyfried

, Cedric 

Kyles




USA 

/ 108'

SWEET COUNTRY


by

 

WARWICK THORNTON

​​ 

starring 

Sam Nei

l

l

, Bryan Brown, Hamilton Morris, Thomas M. Wright
Australia / 112

'

THE LEISURE SEEKER


by

 

PAOLO VIRZÌ 

starring 

Helen 

Mirren

, Donald Sutherland


Italy

 / 112'

EX LIBRIS – THE NEW YORK PUBLIC LIBRARY


by

 

FREDERICK WISEMAN

​


USA 

/ 197'
ORIZZONTI
NAPADID SHODAN (DISAPPEARANCE)
by ALI ASGARI
starring Sadaf Asgari, Amir Reza Ranjbaran, Nafiseh Zare, Sahar Sotoodeh
Iran, Qatar / 89'
ESPÈCES MENACÉES
by GILLES BOURDOS
starring Alice Isaaz, Vincent Rottiers, Grégory Gadebois, Suzanne Clément
France, Belgium / 105'
THE RAPE OF RECY TAYLOR
by NANCY BUIRSKI
USA / 91'
CANIBA
by LUCIEN CASTAING-TAYLOR, VERENA PARAVEL
France / 90'
LES BIENHEUREUX
by SOFIA DJAMA
starring Sami Bouajila, Nadia Kaci, Amine Lansari, Lyna Khoudri / France, Belgium / 102'
MARVIN
by ANNE FONTAINE
starring Finnegan Oldfield, Isabelle Huppert, Grégory Gadebois, Vincent Macaigne
France / 115'
INVISIBLE
by PABLO GIORGELLI
starring Mora Arenillas, Mara Bestelli, Diego Cremonesi
Argentina, Brazil, Uruguay, Germany / 87'
BRUTTI E CATTIVI
by COSIMO GOMEZ
starring Claudio Santamaria, Marco D'Amore, Sara Serraiocco / Italy, France / 87'
HA BEN DOD (THE COUSIN)
by TZAHI GRAD
starring Ala Dakka, Tzahi Grad, Osnat Fishman / Israel / 92'
HA EDUT (THE TESTAMENT)
by AMICHAI GREENBERG
starring Ori Pfeffer, Rivka Gur, Hagit Dasberg Shamul, Ori Yaniv / Israel, Austria / 91'
BEDOUNE TARIKH, BEDOUNE EMZA (NO DATE, NO SIGNATURE)
by VAHID JALILVAND
starring Amir Agha'ee, Navid Mohammadzadeh, Hediyeh Tehrani, Sa'eed Dakh
Iran / 104'
LOS VERSOS DEL OLVIDO
by ALIREZA KHATAMI
starring Juan Margallo, Tomas Del Estal, Manuel Moron, Itziar Aizpuru
France, Germany, Netherlands, Chile / 92'
LA NUIT OÙ J'AI NAGÉ – OYOGISUGITA YORU
by DAMIEN MANIVEL, IGARASHI KOHEI
starring Kogawa Takara, Kogawa Keiki, Kogawa Takashi, Kogawa Chisato
France, Japan / 79'
NICO, 1988
by SUSANNA NICCHIARELLI
starring Tryne Dyrholm, John Gordon Sinclair, Anamaria Marinca, Sandor Funtek
Italy, Belgium / 93'
KRIEG
by RICK OSTERMANN
starring Ulrich Matthes, Barbara Auer / Germany / 93'
WEST OF SUNSHINE
by JASON RAFTOPOULOS
starring Damian Hill, Ty Perham, Kat Stewart, Tony Nikolakopoulos, Arthur Angel
Australia / 78'
GATTA CENERENTOLA
by ALESSANDRO RAK, IVAN CAPPIELLO, MARINO GUARNIERI, DARIO SANSONE
Animation film / Italy / 86'
UNDIR TRÉNU (UNDER THE TREE)
by HAFSTEINN GUNNAR SIGURÐSSON
starring Steinþór Hróar Steinþórsson, Edda Björgvinsdóttir, Sigurður Sigurjónsson, Lára Jóhanna Jónsdóttir / Iceland, Denmark, Poland, Germany / 89'
LA VITA IN COMUNE
by EDOARDO WINSPEARE
starring Gustavo Caputo, Antonio Carluccio, Claudio Giangreco, Celeste Casciaro
Italy / 110'
ORIZZONTI – SHORT FILMS
APIA (ARIA)
by MYRSINI ARISTIDOU
starring Chryssa Platsatoura, Yannis Stankoglou, Audrey Giacomini, Takis Spyridakis
Cyprus, France / 13'
BY THE POOL
by LAURYNAS BAREISA
starring Karolina Kildaité, Danas Kavaliauskas, Karolina Maksvityte / Lithuania / 16'
GROS CHAGRIN
by CÉLINE DEVAUX
starring Swann Arlaud, Victoire Du Bois / France / 15'
LAGI SENANG JAGA SEKANDANG LEMBU (IT'S EASIER TO RAISE CATTLE)
by AMANDA NELL EU
starring Sharifah Aryana Binti Syed Zainal Rashid, Sofia Sabri / Malaysia / 18'
ASTROMETAL
by EFTHIMIS KOSEMUND SANIDIS
starring Mihalis Sarantis, Thalia Papacosta, Yiannis Niarros / Greece / 15'
THE KNIFE SALESMAN
by MICHAEL LEONARD, JAMIE HELMER
starring Syd Brisbane, Dana Miltins / Australia / 10'
TIERRA MOJADA
by JUAN SEBASTIAN MESA BEDOYA
starring Yeison García Tascon, Marco Tulio Vásquez Yagarí, Barbara Panchí Saigama
Colombia / 17'
MENINAS FORMICIDA
by JOÃO PAULO MIRANDA MARÍA
starring Amanda Araújo, Tatiana Pinheiro Ribeiro, Bruna Andrade / France, Brazil / 12'
L'OMBRA DELLA SPOSA
by ALESSANDRA PESCETTA
starring Fabrizio Buttiglieri, Marco Canzoneri, Giuseppe Lo Piccolo, Angela Ribaudo
Italy / 11'
AWASARN SOUND MAN (DEATH OF THE SOUND MAN)
by SORAYOS PRAPAPAN
starring Chalermrat Kaweewattana, Nattapong Pipattanasub / Thailand, Myanmar / 16'
HIMINN OPINN
by GABRIEL SANSON, CLYDE GATES
starring Tristan Tessier, Judith Williquet, Jonathan Pryce / Belgium / 19'
MON AMOUR, MON AMI
by ADRIANO VALERIO
Italy / 15'
ORIZZONTI – SHORT FILMS – FUORI CONCORSO

FUTURO PROSSIMO
by SALVATORE MEREU
starring Rachel Akimbi, Mojo Kuti, Francesco Vesta / Italy / 18'
8TH CONTINENT
by YORGOS ZOIS
starring Pavlos Iordanopoulos / Greece / 11'
FUORI CONCORSO
SPECIAL EVENTS
CASA D'ALTRI
by GIANNI AMELIO
Italy / 16'
MICHAEL JACKSON'S THRILLER 3D
by JOHN LANDIS
starring Michael Jackson, Ola Ray / USA / 14'
MAKING OF MICHAEL JACKSON'S THRILLER
by JERRY KRAMER
starring Michael Jackson / USA (1983) / 45'
FICTION
OUR SOULS AT NIGHT
by RITESH BATRA
starring Jane Fonda, Robert Redford / USA / 101'
IL SIGNOR ROTPETER
by ANTONIETTA DE LILLO
starring Marina Confalone / Italy / 37'
VICTORIA & ABDUL
by STEPHEN FREARS
starring Judi Dench, Ali Fazal, Eddie Izzard / Great Britain / 149'
LA MÉLODIE
by RACHID HAMI
starring Kad Merad, Samir Guesmi, Renély Alfred, Youssouf Gueye / France / 102'
OUTRAGE CODA
by KITANO TAKESHI
starring Beat Takeshi, Nishida Toshiyuki / Japan / 104'
LOVING PABLO
by FERNANDO LEÓN DE ARANOA
starring Javier Bardem, Penélope Cruz, Peter Sarsgaard / Spain, Bulgaria / 123'
ZAMA
by LUCRECIA MARTEL
starring Daniel Giménez Cacho, Lola Dueñas, Matheus Nachtergaele, Juan Minujín
Argentina, Brazil / 115'
WORMWOOD
by ERROL MORRIS
starring Peter Sarsgaard, Molly Parker, Christian Camargo, Scott Shepherd, Tim Blake Nelson, Bob Balaban / miniseries, six episodes / USA / 300'
DIVA!
by FRANCESCO PATIERNO
starring Barbora Bobulova, Anita Caprioli, Carolina Crescentini, Silvia D'Amico, Isabella Ferrari, Carlotta Natoli, Greta Scarano, Anna Foglietta, Michele Riondino / Italy / 75'
LE FIDÈLE
by MICHAËL R. ROSKAM
starring Matthias Schoenaerts, Adèle Exarchopoulos / Belgium, France, Netherlands / 130'
IL COLORE NASCOSTO DELLE COSE
by SILVIO SOLDINI
starring Valeria Golino, Adriano Giannini, Arianna Scommegna, Laura Adriani
Italy, Switzerland / 115'
THE PRIVATE LIFE OF A MODERN WOMAN
by JAMES TOBACK
starring Sienna Miller, Alec Baldwin, Charles Grodin, Colleen Camp, Carl Icahn / USA / 71'
BRAWL IN CELL BLOCK 99
by S. CRAIG ZAHLER
starring Vince Vaughn, Jennifer Carpenter, Don Johnson, Udo Kier / USA / 132'
NON-FICTION
CUBA AND THE CAMERAMAN
by JON ALPERT
USA / 113'
MY GENERATION
by DAVID BATTY
with Michael Caine / Great Britain / 85'
PIAZZA VITTORIO
by ABEL FERRARA
Italy / 82'
THE DEVIL AND FATHER AMORTH
by WILLIAM FRIEDKIN
USA / 68'
THIS IS CONGO
by DANIEL McCABE
Congo / 91'
RYUICHI SAKAMOTO: CODA
by STEPHEN NOMURA SCHIBLE
USA, Japan / 100'
JIM & ANDY: THE GREAT BEYOND. THE STORY OF JIM CARREY, ANDY KAUFMAN AND TONY CLIFTON
by CHRIS SMITH
USA, Canada / 90'
HAPPY WINTER
by GIOVANNI TOTARO
Italy / 91'
LEONE DEL FUTURO – PREMIO OPERA PRIMA "LUIGI DE LAURENTIIS"
Xavier LEGRAND, Jusqu'à la garde (France) (Venezia 74)
Ali ASGARI, Napadid shodan (Disappearance) (Iran, Qatar) (Orizzonti)
Sofia DJAMA, Les bienheureux (France, Belgium) (Orizzonti)
Cosimo GOMEZ, Brutti e cattivi (Italy, France) (Orizzonti)
Amichai GREENBERG, Ha Edut (The Testament) (Israel, Austria) (Orizzonti)
Alireza KHATAMI, Los versos del olvido (France, Germany, Netherlands, Chile) (Orizzonti)
Jason RAFTOPOULOS, West of Sunshine (Australia) (Orizzonti)
Annika BERG, Forever 13 (Denmark) (SIC)
Natalia GARAGIOLA, Temporada de caza (Argentina, USA, France, Germany, Qatar) (SIC)
Silvia LUZI, Luca BELLINO, Il cratere (Italy) (SIC)
Bertrand MANDICO, Les garçons sauvages (France) (SIC)
Helena WITTMANN, DRIFT (Germany) (SIC)
Katharina WYSS, Sarah joue un loup garou (Switzerland, Germany) (SIC)
Emre YEKSAN, Körfez (The Gulf) (Germany, Greece) (SIC)
Valentina PEDICINI, Where the Shadows Fall (Italy) (Venice Days)
Sara FORESTIER, M (France) (Venice Days)
VENICE VIRTUAL REALITY
CONCORSO
MELITA
by NICOLÁS ALCALÁ
Animation film / USA / 24' / Oculus Stand Up
LA CAMERA INSABBIATA
by LAURIE ANDERSON, HUANG HSIN-CHIEN
Animation film / USA / 20' / Installation
THE LAST GOODBYE
by GABO ARORA
USA / 20' / Installation
MY NAME IS PETER STILLMAN
by LYSANDER ASHTON, LEO WARNER
Animation film / Great Britain / 6' / Oculus Stand Up
ALICE, THE VIRTUAL REALITY PLAY
by MATHIAS CHELEBOURG
with Robin Berry, Josh Jefferies / France / 20' / Installation
ARDEN'S WAKE (EXPANDED)
by EUGENE YK CHUNG
Animation film / USA / 16' / Oculus Stand Up
GREENLAND MELTING
by NONNY DE LA PEÑA
USA / 11' / Vive Stand Up
DONGDUCHEON (BLOODLESS)
by GINA KIM
South Korea, USA / 12' / VR Theater
NOTHING HAPPENS
by URI KRANOT, MICHELLE KRANOT
Animation film / Denmark, France / 14' / Vive Stand Up
SHI MENG LAO REN (THE DREAM COLLECTOR)
by MI LI
Animation film / China / 11' / Oculus Stand Up
SNATCH VR HEIST EXPERIENCE
by RAFAEL PAVÓN, NICOLÁS ALCALÁ
with Rupert Grint, Luke Pasqualino, Lucien Laviscount, Phoebe Dynevor
USA / 5' / Installation
NEFERTITI
by RICHARD MILLS, KIM-LEIGH PONTIN
Animation film / Great Britain / 15' / Vive Stand Up
PROXIMA
by MATHIEU PRADAT
with Adde Fabrice, Djaga Maud, Denis Guillaume / France / 9' / VR Theater
CHUANG (IN THE PICTURES)
by QING SHAO
Animation film / China / 5' / VR Theater
DISPATCH
by EDWARD ROBLES
Animation film / USA, Great Britain / 6' / Oculus Stand Up
THE ARGOS FILE
by JOSEMA ROIG
with Joshua Furtado, Matthew Amerman, April Fritz, Jamie Slovon / USA / 4' / VR Theater
GOMORRA VR – WE OWN THE STREETS
by ENRICO ROSATI
with Marco D'Amore, Salvatore Esposito, Fabio De Caro / Italy / 14' / VR Theater
DRAW ME CLOSE, CHAPTERS 1-2
by JORDAN TANNAHILL
Canada, Great Britain / 15' / Installation
JIA ZAI LANRE SI (THE DESERTED)
by TSAI MING-LIANG
with Lee Kang-sheng, Chen Shiang-chyi, Lu Yi-ching, Yin Shin / Taiwan / 55' / VR Theater
I SAW THE FUTURE
by FRANÇOIS VAUTIER
France / 5' / VR Theater
HVER SIN STILHED (SEPARATE SILENCES)
by DAVID WEDEL
with Elias Munk, Sine Lindstorff Kjeldsen, Marcus Aurelius Christensen, Anna Nøhr Tolstrup, Erik Engedal Christensen / Denmark / 17' / Installation
FREE WHALE
by ZHANG PEIBIN
Animation film / China / 7' / Oculus Stand Up
Biennale College Cinema – VR
FUORI CONCORSO
CHROMATICA
by FLAVIO COSTA / producer: LAURA CATALANO
with Camilla Diana, Christian Burruano / Italy / 17' / VR Theater
DENOISE (BEAUTIFUL THINGS)
by GIORGIO FERRERO / producer: FEDERICO BIASIN
with Van Quattro, Danilo Tribunal, Andrea Pavoni Belli, Vito Mirizzi / Italy / 12' / VR Theater
ON/OFF
by CAMILLE DUVELLEROY, ISABELLE FOUCRIER / producer: LAURENT DURET
France / 10' / VR Theater
Venice Production Bridge – VR
FUORI CONCORSO
SENS – PART 1
by CHARLES AYATS, MARC-ANTOINE MATHIEU
Animation film / France / 10' / VR Theater
ALTERATION
by JEROME BLANQUET
Fiction / France / 16' / VR Theater
NAIVE NEW BEATERS "HEAL TOMORROW"
by ROMAIN CHASSAING
Music Video / Great Britain / 4' / VR Theater
MULE
by GUY SHEMERDINE
Fiction / USA / 6' / VR Theater
Best of VR
FUORI CONCORSO
DEAR ANGELICA
by SASCHKA UNSELD
Animation film / USA / 13' / Oculus Stand Up
MIYUBI
di FÉLIX LAJEUNESSE, PAUL RAPHÄEL
with Owen Vaccaro, P.J. Byrne, Richard Riehle, Emily Bergl, Ted Sutherland, Tatum Kensington Bailey, Lindsay Arnold, Noah Crawford, Jeff Goldblum
Canada / 40' / VR Theater
PROIEZIONI SPECIALI
LA LUNGA STRADA DEL RITORNO
by ALESSANDRO BLASETTI
Italy (1962) / 130'
BARBIANA '65 LA LEZIONE DI DON MILANI
by ALESSANDRO G.A. D'ALESSANDRO
Italy / 62'
LIEVITO MADRE – LE RAGAZZE DEL SECOLO SCORSO
by CONCITA DE GREGORIO, ESMERALDA CALABRIA
Italy / 60'