Today JAMovie lands in Sweden, and has the pleasure of interviewing Swedish actress, producer and director Hanna Oldenburg.
His performances include those in Mareld, Animalistic, and Blood Runs Cold.
She will also star in the upcoming drama Black Lake.
Internationally he has taken part in films such as Ruben Östlund's Triangle of Sadness with Woody Harrelson, Neighbors 2 with Seth Rogen and Chloë Grace Moretz, the TV series Honor and Agent Hamilton.
Oggi JAMovie sbarca in Svezia, ed ha il piacere di intervistare l'attrice, produttrice e regista svedese Hanna Oldenburg.
Tra le sue interpretazioni ricordiamo quelle in Mareld, Animalistic, e Blood Runs Cold.
Sarà inoltre la protagonista nel film drammatico di prossima uscita Black Lake.
A livello internazionale ha preso parte a pellicole come Triangle of Sadness di Ruben Östlund con Woody Harrelson, Neighbours 2 con Seth Rogen e Chloë Grace Moretz, le serie TV Honor e Agent Hamilton.
1) Hello Hanna, welcome to JAMovie and thank you for your time.
When and how did your passion for cinema begin? Were there a special event, an actor/actress you were inspired by or a film which touched you? 
Thanks for having me!
Previously to working as an actress i was working as a professional equestrian competing in show jumping.
When i was around 20, i started to feel i wanted new challenges in life.
I got a new friend in the stable who was an actor, and he inspired me to apply for a role as an extra, just for fun.
I lied myself into the audition room for an acting role instead, saying that i'd gone to acting school, which i hadn't.
But i ended up getting the part.
The project got cancelled in the end, but i discovered a new passion and a love for acting and film.
1) Ciao Hanna, benvenuta a JAMovie e grazie per la tua disponibilità.
Quando e come nasce la tua passione per il cinema?
C'è stato un episodio in particolare, un attore/attrice che ti ha ispirato, un film che ti ha particolarmente colpito? 
Grazie a voi per aver deciso di intervistarmi!
Prima di lavorare come attrice, lavoravo da cavallerizza professionista nel salto a ostacoli.
Quando avevo circa 20 anni, cominciai a sentire di volere nuove sfide nella mia vita.
Avevo un nuovo amico nella scuderia che faceva l'attore e mi ha ispirato a candidarmi per un ruolo come lavoro extra, solo per divertimento.
Sono entrata nella stanza delle audizioni mentendo, invece, dicendo che ero andata ad una scuola di recitazione, cosa che non avevo fatto.
Ma ho finito per prendere la parte.
Il progetto fu cancellato, ma scoprii una passione e un amore per la recitazione e per i film.
2) You travelled around the world since you were very young, to Australia, the U.S.A and to Europe.
How important was that to you as an individual and as an actress?
What would you recommend to young women who would like to test themselves in the cinema industry?
I think travelling and working in different countries makes you grow a lot as a person, and you develop a greater understanding and empathy for other people and cultures.
You get so much life experience and general knowledge from meeting a lot of different people with different perspectives of life than your own.
Elements you can use when creating characters, and in your acting.
I've noticed that the older i become, and the more life experience i get, the more natural it feels to create any type of character in any situation.
If one has the possibility to travel and work in other countries, one should do it.
The beauty about film is that if you don't have those options, you can experience other cultures through the world of cinema.
If you'd like to get into the film industry, i'd say try and work as much as possible.
Try and get your foot in the door, in anything: student films, extra work, commercials. Apply for and work as much as you can, even if it's behind the camera as an assistant. Try getting to know people and build a network.
They'll think of you next time they're looking for an actress.
2) Sin da giovanissima hai girato il mondo per seguire la tua passione per il cinema, passando per Australia, Stati Uniti ed Europa.
Quanto questo è stato importante per te dal punto di vista umano e professionale?
Cosa consiglieresti vista la tua esperienza ad una giovane donna che vuole cimentarsi nel mondo del cinema?
Penso che viaggiare e lavorare in paesi diversi ti faccia crescere tanto come persona e sviluppi una comprensione e un'empatia maggiori per le altre persone e le altre culture. Ricavi così tanta esperienza di vita e conoscenza generale dall'incontrare tante persone diverse con prospettive sulla vita diverse dalla tua.
Sono elementi che puoi utilizzare quando crei dei personaggi e nella tua recitazione.
Ho notato che più faccio esperienze di vita, più risulta naturale creare qualsiasi tipo di personaggio in qualsiasi situazione.
Se una persona ha la possibilità di viaggiare e di lavorare dovrebbe farlo.
La bellezza del cinema è che se non hai quelle possibilità, puoi fare esperienze di culture diverse attraverso il mondo del cinema.
A chi vuole entrare a lavorare nel settore del cinema, direi di provare a lavorare più possibile. Cercate di mettere un piede all'ingresso, in qualsiasi cosa: film studenteschi, lavori extra, pubblicità.
Candidatevi e lavorate quanto potete.
Cercate di conoscere delle persone e di costruire una rete. Penseranno a voi la volta successiva che cercheranno un attrice.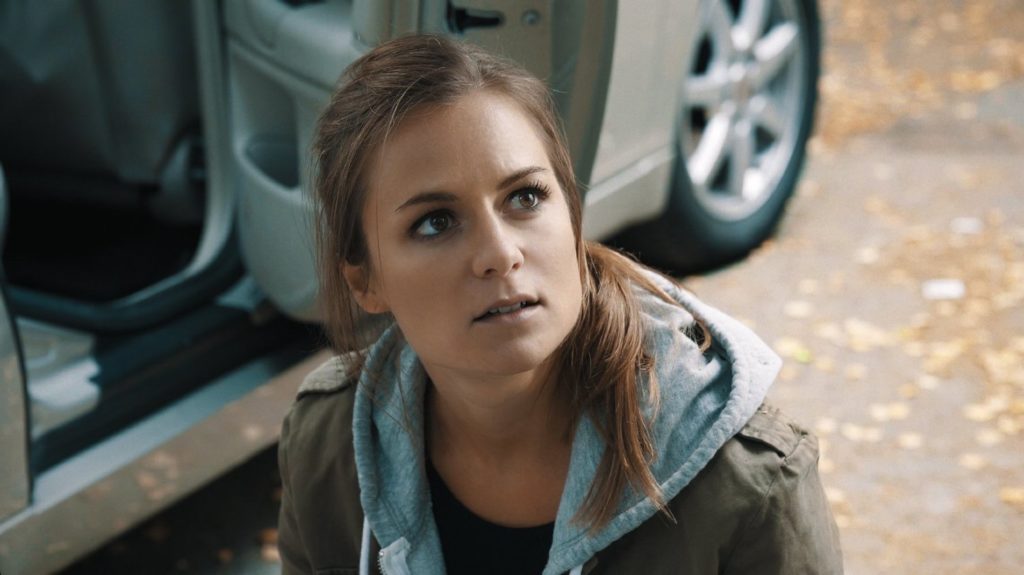 3) Your first role as a main actor in a feature film was in Blood runs cold.
What was your first reaction when you saw yourself on the screen starring as a main actor in a film?
Please tell us a story about something funny that happened during the shooting of the film.   
Blood Runs Cold was my first ever acting job.
When i first saw myself on screen i remember thinking I look so stiff. That's not how i felt when doing the scenes.
I learned a lot from that.
I learned that you need to put much more energy into your acting than you feel you need to.
What you feel is not the same as how it looks on camera.
I also started to use my body more expressively, and worked on getting the intensity up in my breathing and in my eyes.
I'm grateful for that experience, and how much i was taught.
You can really see the results of these realizations and the development of my acting in the next movie i starred in, Animalistic. 
It was an unusually cold winter, -20 Celsius every single day, and the house we filmed in had no heating.
We shot the film in around 25 days, whilst i was wearing a t-shirt and jeans pretending it was warm and cozy.
Smoke came out of our moths as we spoke, which sometimes became a problem in the shots.
The film crew had to hold their breaths while we were doing takes.
We were joking a lot that blood really runs cold.
Overall we had so much fun during the shoot.
It was a very small crew, and we decided to work together again, both on Animalistic and Mystery Box.
And more to come…
3) Il primo ruolo da protagonista in un lungometraggio è arrivato con il film "Blood runs cold".
Qual è stato il tuo primo pensiero quando ti sei vista davanti ad uno schermo come protagonista di una pellicola?
Raccontaci un aneddoto simpatico avvenuto durante le riprese.   
Blood Runs Cold è stato il mio primo lavoro nella recitazione.
Ricordo che quando mi vidi per la prima volta sullo schermo pensai: Sembro così rigida. 
Non è così che mi sentivo quando giravo le scene.
Ho imparato molto.
Ho imparato che bisogna mettere molta più energia nella propria recitazione, di quella che si pensa di dover mettere.
Ciò che percepisci non è la stessa cosa che appare nella videocamera.
Cominciai anche a usare il mio corpo in modo più espressivo e lavorai sull'aumentare l'intensità nel mio respiro e nei miei occhi.
Sono grata per quell'esperienza e per quanto mi venne insegnato.
I risultati di queste prese di coscienza e dello sviluppo della mia recitazione sono davvero visibili nel film successivo in cui recitai, Animalistic.
Era un inverno insolitamente freddo, faceva -20° ogni giorno e la casa in cui giravamo non aveva riscaldamento.
Girammo il film in circa 25 giorni, mentre indossavo una t-shirt e un paio di jeans fingendo che fosse tiepido e accogliente.
Quando parlavamo usciva del fumo dalle nostre bocche, cosa che divenne un problema durante le riprese.
La troupe doveva trattenere il respiro mentre giravamo.
Scherzavamo molto sul fatto che il sangue scorre veramente freddo.
Nel complesso ci divertimmo così tanto durante le riprese.
Era una troupe molto piccola e decidemmo di lavorare ancora insieme, sia in Animalistic, che in Mistery box.
E altri seguiranno.
4) You worked in the cinema industry not only as actress, but as a producer and a director as well.
What do you foresee for your future?
Which one of these positions do you prefer?  
Yes, i made the decision to go to film school at UCLA to educate myself and learn about how the industry works as a whole.
I'm not only interested in acting, i'm interested in movies and movie making.
I love acting the most, but directing is also amazing as you get to develop your own creative worlds and stories working with all elements of the film – the visuals, sound, music, the actors.
Producing becomes a natural part of you wanting a project to come alive.
It's all connected, and many filmmakers work in different positions simultaneously.
As do i, and that works well for me. 
In the future i hope to be established internationally and get to work more on international features with great filmmakers and directors.
4) Nel mondo del cinema ha ricoperto, oltre al ruolo di attrice, anche quello di produttrice e regista.
Come ti vedi in futuro?
C'è un ruolo che prediligi?  
Sì presi la decisione di andare alla scuola di cinema alla UCLA, per istruirmi e imparare come funziona il settore nel complesso.
Non sono interessata solo alla recitazione, sono interessata ai fil e alla realizzazione dei film.
Amo la recitazione più di tutto, ma anche fare la regista è stupendo, in quanto ti dà la possibilità di sviluppare i tuoi mondi creativi e le tue storie nel lavoro con tutti gli elementi del film-gli aspetti visivi, il suono, la musica, gli attori.
Fare da produttrice diventa una parte naturale quando vuoi che un progetto diventi realtà. È tutto collegato e molti filmmakers lavorano in ruoli diversi contemporaneamente.
Lo faccio anche io e per me funziona bene.
Nel futuro spero di essere affermata a livello internazionale e di avere la possibilità di lavorare di più in opere internazionali con grandi filmmakers e registi.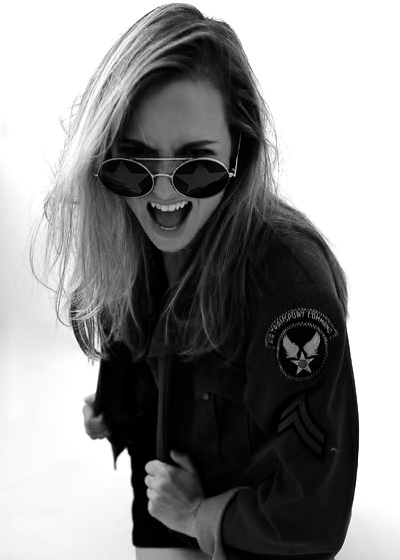 5) You also worked as  Head of Industry at the Stockholm  International Film Festival.
What does this position mean for you? 
In the position i invited the industry visiting the festival and arranged an industry program for them to attend: seminars, networking events and screenings.
I had just moved back to Sweden after years abroad and for me it was an excellent way of getting to know people in the film industry in Scandinavia, and get a closer look on how the industry works here, different from the US and Australia.
It was a great experience and also an opportunity to watch a lot of films.
5) Tra le tue esperienze c'è anche quella di "Head of Industry" allo Stoccolma International Film Festival.
 Cosa significa per te ricoprire questo ruolo?
In questo ruolo ho invitato l'industria a visitare il festival e ho preparato un programma industriale da far seguire: seminari, eventi di networking e monitoraggio.
Ero appena tornata in Svezia dopo aver passato degli anni all'estero e per me è stato un modo eccellente di conoscere delle persone nell'industria cinematografica in Scandinavia e di avere uno sguardo ravvicinato su come funziona l'industria qui, diversamente dagli U.S.A. e dall'Australia.
È stata un'esperienza grandiosa e anche un'opportunità di guardare molti film.
6) In some of the films you starred in, you had the opportunity with some other International actors, such as come Woody Harrelson and Seth Rogen.
How was working with them?  
They were both very relaxed and easy going people.
They made it look so easy on screen.
Seth Rogen delivered his lines instinctively and in a different way every take, it just looked like the most natural thing.
Working with Woody was very inspiring!
He's just on another level and watching him act made it very clear how he's been nominated for Academy Awards.
I've always been a fan of his work, and i'm very grateful for getting the opportunity to work with such a legend.
He's also a great person off work, and a really funny guy!
6) In alcune pellicole alle quali hai preso parte hai avuto modo di lavorare con artisti internazionali, come Woody Harrelson e Seth Rogen.
Com'è stato lavorare al loro fianco?  
Sono stati entrambi persone molto rilassate e alla mano.
Facevano sembrare tutto così facile sullo schermo.
Seth Rogen recitava le sue battute istintivamente e in modo diverso a ogni ripresa.
Sembrava semplicemente la cosa più naturale.
Lavorare con Woody è stato molto stimolante.
È proprio ad un altro livello e guardarlo recitare ha reso chiarissimo come mai sia stato nominato per gli Oscar.
Sono stata sempre una fan delle sue opere e sono molto grata per aver avuto l'opportunità di lavorare con una leggenda.
È anche una bella persona fuori dal lavoro ed è molto divertente!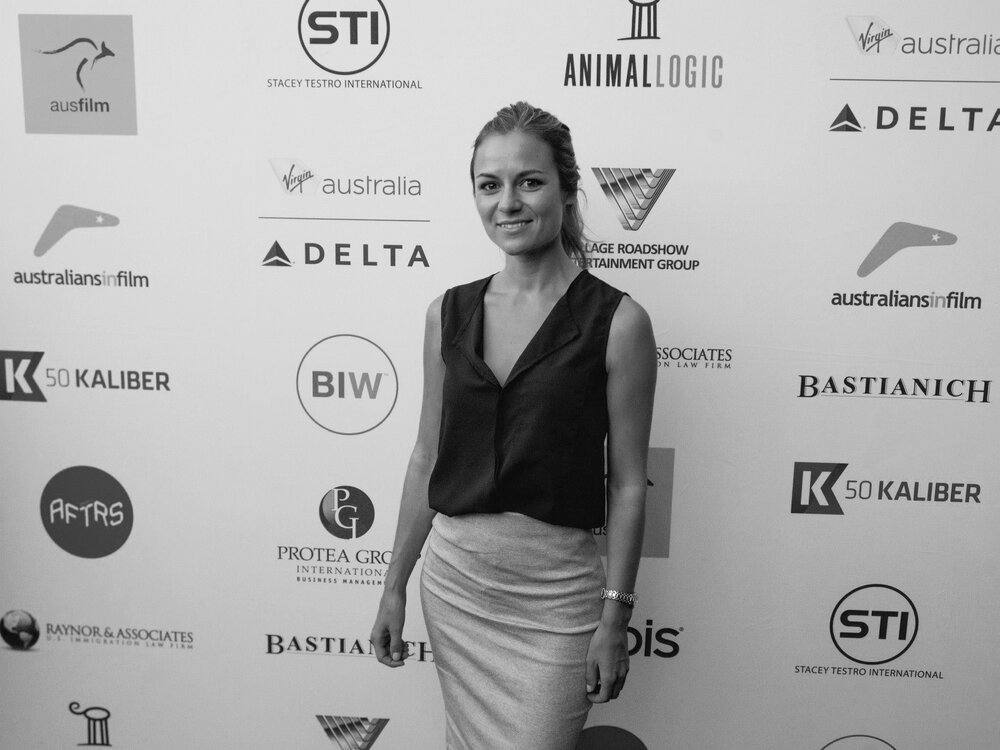 7) Tell us about cinema in your country.
What is your opinion about the current condition of Swedish cinema?
Are there a film and a director you would recommend to the Italian audience for a first approach to films from your country? 
Swedish cinema contains a lot of realism, and sociology.
We're still influenced by filmmakers such as Ingmar Bergman.
In my opinion Swedish cinema has stagnated a bit and we see a lot of the same films covering the same topics, but it has improved a lot lately and gets better and better. 
I would recommend the Italian audience to watch Ruben Östlund's films.
He's a genius and makes really interesting satire films with his own style.
His latest one The Square is my favorite so far, and I can't wait to see the new one, Triangle of Sadness that I also worked on.
7) Parlaci del cinema di casa tua.
Come vedi lo stato di salute del cinema svedese?
Ci sono un film ed un regista che consiglieresti al pubblico italiano per avvicinarli alla filmografia del tuo paese? 
Il cinema svedese contiene realismo e sociologia in gran quantità. Siamo ancora influenzati da registi come Ingmar Bergman.
Secondo me, il cinema svedese è stagnante da un po' e vediamo molti film simili sugli stessi argomenti, ma è migliorato molto di recente e diventa sempre migliore.
Al pubblico italiano consiglierei i film di Ruben Östlund.
È un genio e realizza interessanti film satirici con uno stile proprio.
Il suo ultimo film The Square è il mio preferito fino ad adesso e non vedo l'ora di guardare quello nuovo, Triangle of Sadness su cui ho lavorato anche io.
8)  Let us focus on Italian cinema.
Whats is the latest Italian film which you watched? 
Which Italian actors, actresses or directors would you like to work with one day??   
I love Italy, Italian culture and Italian movies!
My dad grew up in Rome, and has family there, so we've been to Italy a lot.
I've studied Italian and would love to work there!
There are so many Italian filmmakers and movies that inspire me.
The last Italian film i watched I think was A Ciambra by Jonas Carpignano.
He's a director I'd really like to work with one day.
Io Non Ho Paura by Gabriele Salvatores is a big favorite, that i've watched many times, the Tv-series L'amica Geniale, Terraferma by Emanuele Crialese are also great. Cinema Paradiso by Giuseppe Tornatore and Ladri di Biciclette are films that have made an impression on me throughout the years and those kinds of films that always come to mind when thinking of all time favorites.
When it comes to actors – Sophia Loren and Monica Bellucci are the queens!
8) E passando al cinema italiano, qual è l'ultimo film italiano che hai visto?
Con quali attori/attrici e/o registi italiani ti piacerebbe lavorare un giorno?  
Amo l'Italia, la cultura italiana e i film italiani.
Mio padre è cresciuto a Roma ed ha dei membri della famiglia lì, quindi siamo stati molte volte in Italia.
Ho studiato italiano e vorrei lavorare in Italia!
Ci sono così tanti registi e film italiani che mi stimolano.
L'ultimo film italiano che ho guardato è stato A Ciambra di Jonas Carpignano.
È un regista con cui mi piacerebbe veramente lavorare un giorno.
Io Non Ho Paura di Gabriele Salvatores è uno dei miei preferiti che ho guardato tante volte.
Anche le serie tv L'amica Geniale, Terraferma di Emanuele Crialese sono grandiose, Cinema Paradiso di Giuseppe Tornatore e Ladri di Biciclette sono film che mi hanno lasciato un segno nel corso degli anni e sono quel genere di film che mi viene sempre in mente quando penso ai miei preferiti di sempre.
Per quanto riguarda gli attori, Sophia Loren e Monica Bellucci sono le regine!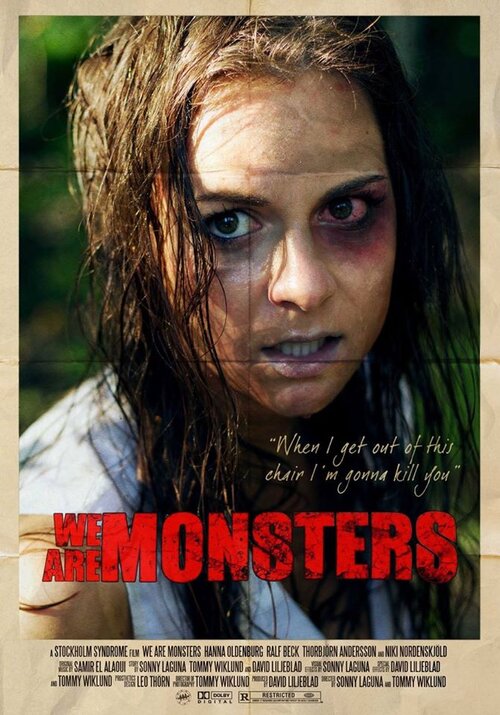 9) What are your next goals in cinema? 
Getting more work on international features, getting to work with great directors and filmmakers, establish myself internationally and become a better and better actress.
I'd also like to play a superhero in a Marvel production, a Tomb Raider like movie, or do sci-fi such as Star Wars.
To get a chance to use my physics, do fighting scenes, use my horse riding skills, shoot guns and use super powers.
That's my goal!
9) Quali sono i tuoi prossimi obiettivi nel mondo del cinema?
Ottenere più lavori in opere internazionali, vere l'opportunità di lavorare con grandi registi e filmmakers, affermarmi a livello internazionale e diventare un attrice sempre migliore.
Mi piacerebbe anche interpretare un supereroe in una produzione della Marvel, un film come Tomb Raider, o fare della fantascienza come Guerre Stellari.
Avere la possibilità di usare la mia fisicità, girare scende di combattimento, usare la mia capacità di cavalcare, sparare e usare dei superpoteri.
10) Eventually, tell us about your daily life and about  what makes you happy presently? 
In my daily life i work as much as i can – acting, writing script, directing etc.
In my spare time i ride horses, work out, travel a lot, sometimes i paint, have dinner with friends, drink wine, watch all films and Tv-series i come across.
Friends make me happy, and a balance in life.
I tend to work a lot because i love it so much, always searching for those kicks, but i try to get better at relaxing and just being in the now.
10) Infine, chi è Hanna Oldenburg nella vita di tutti i giorni e cosa ti rende felice oggi?
Nella mia vita quotidiana, lavoro più possibile- recitando, scrivendo copioni, facendo la regista ecc.
Nel mio tempo libero, vado a cavallo, faccio esercizio fisico, viaggio tanto, a volte dipingo, faccio delle cene con gli amici, bevo del vino, guardo tutti i film e le serie tv in cui mi imbatto.
Mi rendono felici gli amici e un equilibrio nella vita.
Tendo a lavorare molto, perché lo amo così tanto, cercando sempre quelli stimoli, ma cerco di diventare più brava a rilassarmi e a vivere il momento.
E per finire, un saluto di Hanna Oldenburg ai fan di JAMovie: