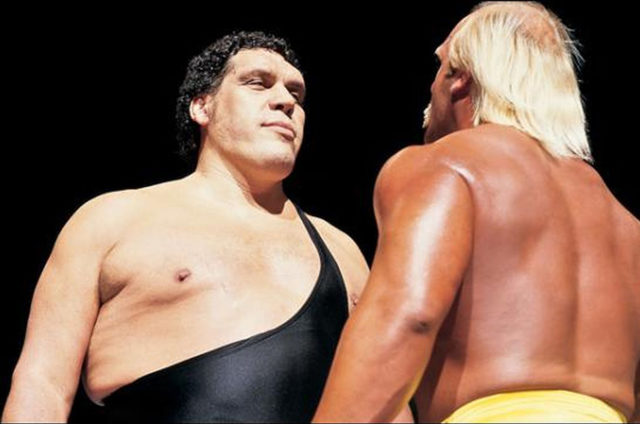 Tutta la storia di André the Giant, uno dei wrestler più rappresentativi della WWE, arriverà il prossimo 10 aprile sulla HBO, raccontata in un documentario prodotto da Bill Simmons e diretto da Jason Hehir.
All'anagrafe André René Roussimoff, nato il 19 maggio del 1946 a Grenoble, in Francia, era affetto da acromegalia, e già a 12 anni era alto più di un metro e novanta e sfiorava i cento chili di peso.
Dopo aver tentato la strada dell'agricoltura e del lavoro il fabbrica, a diciasette anni André si trasferì a Parigi deciso a sfruttare quella sua taglia eccezionale, e cominciò così la sua carriera nel wrestling.
Dopo aver lottato in tutto il mondo, compreso il Giappone, arrivò negli Stati Uniti, dove nel 1972 fu notato dall'uomo che gli diede il soprannome con cui divenne noto in tutto il mondo, Vince McMahon Sr..
André the Giant divenne in pochissimo tempo uno dei lottatori "buoni" più amati dal pubblico, e uno dei wrestler più famosi di tutto il mondo negli anni Settanta e Ottanta. I suoi più celebri rivali furono Big John Studd, King Kong Bundy e Hulk Hogan.
L'acromegalia però è una malattia, e la taglia sproporzionata del corpo crea problemi al cuore e agli organi interni di chi ne è affetto. André aveva poi numerosi problemi alla schiena (venne operato più volte) e complicava la sua situazione con la sua passione per il bere.
La combinazione tra la sua malattia, gli stress fisici del wrestling e alcuni eccessi nello stile dii vita sregolato risultò fatale per questo gigante buono e affabile: il 27 gennaio del 1993 fu stroncato nel sonno da un infarto mentre dormiva in una camera d'albergo parigina. Era tornato in Francia pochi giorni prima, per il funerale di suo padre.